Have you ever heard about Seri Negeri? If you do a search at Google, you won't find any suitable or complete information about it. I hope that this entry would help you to understand the functions of Seri Negeri.
What can we find in Seri Negeri?
Seri Negeri is not a place of tourism or a business centre, but it is important place for the development of Melaka. This is the main Melaka State Government administrative office. It also known as the Melaka's Chief Minister Offic as his office is located on the 4th floor.
Other high level state govermemnt officers offices' are also located at Seri Negeri. For example – the Secretary of State Government, State Finance Office, Executive Council State Government. The Governor's office is also located here. Seri Negeris comprises of state's departments and agencies offices. Everything related to the Melaka's government is at Seri Negeri.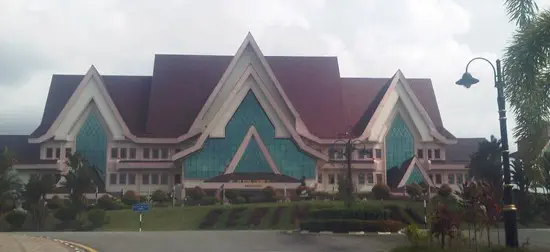 Seri Negeri building consist of 2 major building which is the main building and one next to if on the left. The main building has three floors while the other has six. Beside of its function as the administrative building, it also have a hall called 'Dewan Kesidang' that being used for the State Legistative assembly to present new regulations. It is important hall because it functions as an arena to check and criticize policies and implementation of government project.
Seri Negeri also have a big hall that held big functions called 'Dewan Seri Negeri'. Many functions have been held at the hall such as formal function and convocation. Some colleges in Melaka have held heir convocations at the hall.
Basic facilities such as ATMs, surau and cafeteria are also available. It also has children's nursery, but this is only for staff.
Where is Seri Negeri located?
Seri Negeri is located about 2 km from the Ayer Keroh highway plaza toll. The landmark you can use to go to Seri Negeri is the Ministry of Home Affairs Department (Melaka branch) which is situated in front of Seri Negeri.
Can we visit Seri Negeri?
As the main state government administrative centre that keep lots of government secret, it is not the place that people can easily come and go. However, visitors can get permission from State Government to enter Seri Negeri. On Thursday, people can enter to the Chief Minister Office directly because it is Open Day for public. You can submit your complaint directly to the Chief Minister on that day (based on Chief Minister free time).
Okay, that's a brief information about Seri Negeri.