Melaka Hari Ini or known as MHI, is a newspaper from Melaka. Melaka is one of earliest state in Malaysia that publish its own newspaper. Melaka Hari Ini is priced at RM1.50 and published on a daily basis. Most of the contents are the current news and activities happening in the Melaka. This newspaper can be found most newspaper sellers in Melaka.
Not only being sold as a newspaper, it also published online which you can reach at http://www.mhi.com.my.
Not like other online news website which only publish part of their newspaper online (if you are not a subscriber), the online version of MHI is exactly the same like the offline physical version. The articles are written in Bahasa Malaysia and it also has an English section.

Melaka Hari Ini Basic Information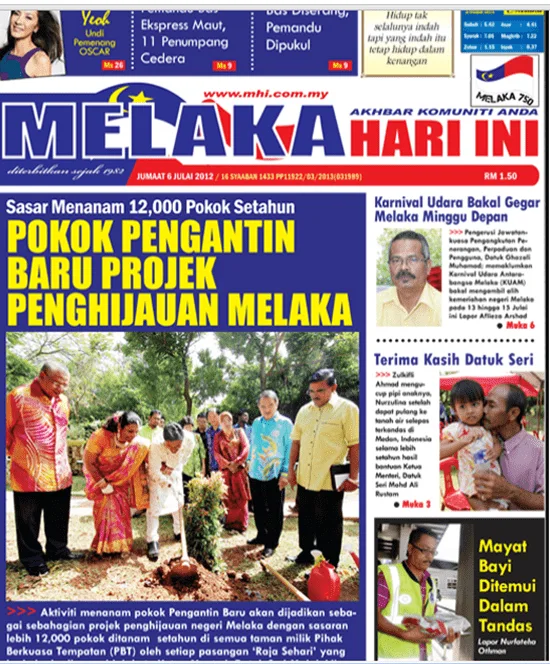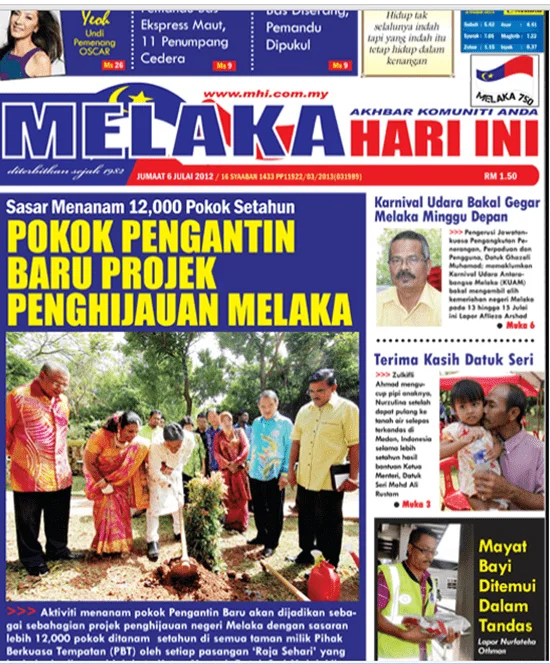 MHI 6th July 2012 Cover Page
Melaka Hari Ini (MHI) was founded in 1982 by Kumpulan Karangkraft but being bought over by MHI Sdn Bhd. MHI Sdn Bhd is a state government company that is operating at Rumah Media Melaka in Ayer Keroh. With the slogan of Akhbar Komuniti Anda (Newspaper for Your Community) it features many activities that are being held in Melaka. You can find daily and future activities being announced in the newspaper. Not just about the activities or news, the newspaper has a a few sections/columns such as :-
Photo activities – This page show photo activities around Melaka.
Schedule list for Panorama trips – It will show the list schedule of Melaka bus company, Panorama trip.
Vacancy advertisement – For those who want to work at Melaka can search the vacancy at the page.
Classified – Any business person can advertise their product or service at Melaka Hari Ini. It will give more exposure for Melaka people.
Entertainment – The column will give you interesting entertainment info.
Sports – Information about sports news especially in Melaka
Campus – Melaka is an educational state. There are many universities and colleges in Melaka. It published their events in this column.
There's also a special column for guest writers. Other than the above, the newspaper also publish information about interesting places and locations in Melaka.
MHI has become a great source of information not only for Melaka citizens but all people around the world. People who want to know more about the daily activities in Melaka should read it.