Melaka Strait Mosque / Masjid Selat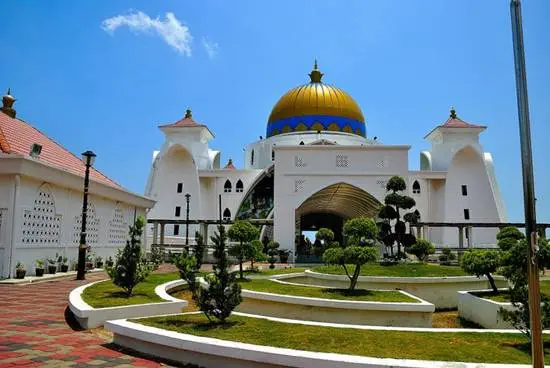 Malaysia is known as an Islamic country. Because the population of Muslim people is big, you can find many mosques in Malaysia. Some of the mosques have different designs that represent different culture here in Malaysia. In Melaka, there are lots of mosques with different design, some of it aged more than 100 years old. In this article, I will introduce you about the Melaka Straits Mosque. To the local people is popularly known as Masjid Selat.
Melaka Straits Mosque is one of the must visit place in Melaka. It is also known as Masjid Terapung (floating mosque). It is becoming the most interesting place to visit by tourist local and foreigner with different religious. This place has a splendid view make it famous for photographers. Masjid Selat is a new mosque in Melaka. It was built in June 2003 and completed in 2006. The mosque was officially opened in 24th November 2006 by the Yang Di Pertuan Agong at that time; Tuanku Syed Sirajuddin Ibni Al-Marhum Tuanku Syed Putra Jamalullail.
Masjid Selat is situated at "Pulau Melaka", a man-made island. It is situated at the centre of Banda Hilir which is the main business centre and tourism centre of Melaka.
Masjid Selat also can hold about 2000 people at one time. The mosque was design according to Malay and Middle Eastern architecture. The idea of the mosque is taken by one of the mosque in Jeddah. The environment inside the mosque is really cool because you can feel the breeze of the ocean wind. The mosque have praying hall, community hall, library, teaching class and others. This shows that the mosque has more function, not only as a house of worship. Inside the mosque, there is an Arabic calligraphy with Quran verses that sculpture at most of the mosque's wall.
Apart from being a house of worship, this mosque also take a role as a light house to give warning ship and boat that cross the Straits of Malacca and also giving direction to the planes because of its 30m tower. At night, you can see the view of the mosque. It is really splendid thanks to the design and colour of the mosque itself. Besides that, Masjid Selat is the only mosque in Malaysia that is ISO certified.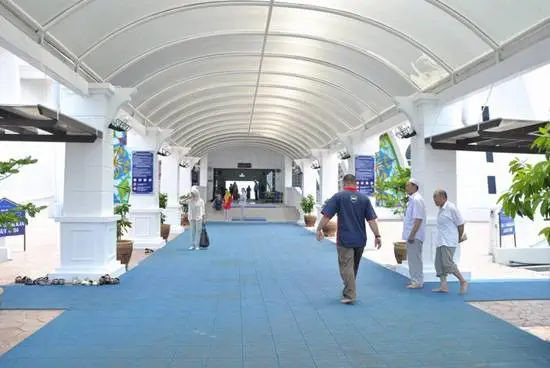 The facilities that provided here are parking space, a lodge for people to rest and enjoy the sea breeze and small cafeteria. For non-Muslim, don't worry, you can also visit here. However for non-Muslim woman, the mosque committee will provide you with suitable clothes before letting you in. For Muslim people, I strongly recommended you to try visit and do your prayer here because from visiting this place, will make you close to nature and indirectly will bring you closer to the Creator.