There's another big news in Melaka. Melaka Biotechnology Corporation has made an agreement with Malaysia BiotechCorp to develop Melaka Pharma Park in Alor Gajah. The first ever pharma park in Malaysia. The RM1.5 billion park will be built in an area of 200 hectares in the Alor Gajah.
The Melaka Pharma Park was an an idea developed during a dialogue with YAB Chief Minister of Melaka during an event with Biotechnology Industry and Halal Malaysia' on 31st July. In the event, Melaka Biotech Corporation proposed to Malaysia BiotechCorp to establish the Melaka Pharma park for health and pharmaceutical industrial entrepreneurs. Following the idea, the Malaysia Biotech Corp has agreed to develop Melaka Pharma Park as a 'Public Private Partnership'. The partnership has been made among Malaysia BiotechCorp, Melaka Biotech Corporation, Capipharm Sdn Bhd and DRB-Hicom Berhad.
The signing of the proposed collaboration between Malaysian Biotech Corporation,  Melaka Biotech Corporation,  DRB-Hicom and Caphiparm Development Sdn Bhd was witnessed by Health Minister Datuk Seri Liow Tiong Lai and Chief Minister. AJ Jomaiah, is an associate company of Saudi Arabia's Holding Sdn Bhd, will invest an initial US$100 million in various biomedical projects including a RM150 million vaccine manufacturing plant in the Melaka Technology Park.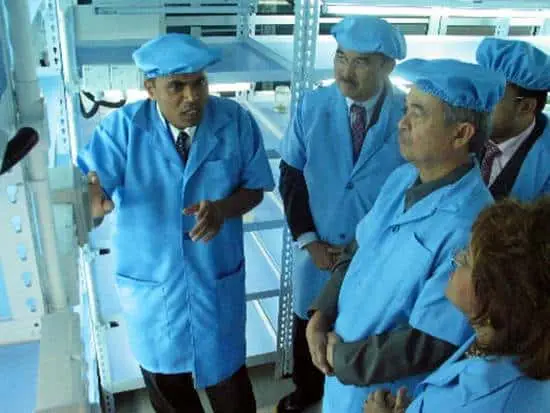 Melaka Biotech CEO, Datin Norsabrina Mohd Noor said, the first phase of Melaka Pharma park will involve investment around RM500 million for basic infrastructure. DRB Hicom will invest RM100 million to set up the facilities while RM400 million will be from foreign direct investment in the next three year.
Melaka Pharma Park will be equipped with the necessary ecosystem for the pharmaceutical industry, including training facilities for local workforce supply in the industry. This training center will drive interest among investor because currently there's no proper organisation to train executives in the industry.
Surely this will attract attention from multinational pharmaceutical company. Domestic pharmaceutical has been identify as a potential industry in the future. The pharmaceutical industry include prescription, traditional medicine and nutritional supplement. Growth of traditional medicine and nutritional supplement will make Melaka Pharma Park to become a landmark for pharmaceutical industry.
The construction work on the first phase and expected to begin by end 2013 or early 2014.
Source News :- Melaka Hari Ini
For more information contact :-
Melaka Biotechnology Corporation
Lot 7 MITC City
Hang Tuah Jaya
75450
Ayer Keroh
Melaka
Phone : 06-2313622
Fax : 06-2313276
Website :- www.melbio.com.my
It is another great idea from Melaka state government. This development  will help Melaka to successfully become a developed state. It is also a good opportunity for pharmaceutical companies to set up their operations in Melaka. It could also attract more foreign companies to invest in Melaka and increase job opportunities in Melaka.
Credit Picture :- HealthCare Asia